What's the Difference Between a 'Good' Job and a 'Bad' Job?
Posted by Charles Middleton on 11/08/2019
Overall, 40 percent of respondents to a Gallup survey were in good jobs, while 44 percent were in mediocre jobs, and 16 percent were in bad jobs.
Workplace experts suggest that so few employees consider themselves in good jobs for several reasons:
The tight labor market has made workers pickier about pay, benefits, hours and other aspects of work.
Younger workers want more flexibility and meaningful work than some employers can offer.
HR pros and company leaders—prone to overestimating how satisfied workers are with their jobs—don't do enough to make their employees happier.
"With the tight talent market, workers are in the driver's seat and demanding much more from their employers," said Jodi Chavez, group president for professional staffing at Randstad U.S., a global HR services provider.
But employers are expecting a lot from workers, as well, she added. "Work is no longer a place we go to 9-to-5, five days a week. Thanks to advances in technology and the demands many employees face to be responsive at all times, the lines between our jobs and the rest of our lives are increasingly blurred." Employees want more and different compensation in return.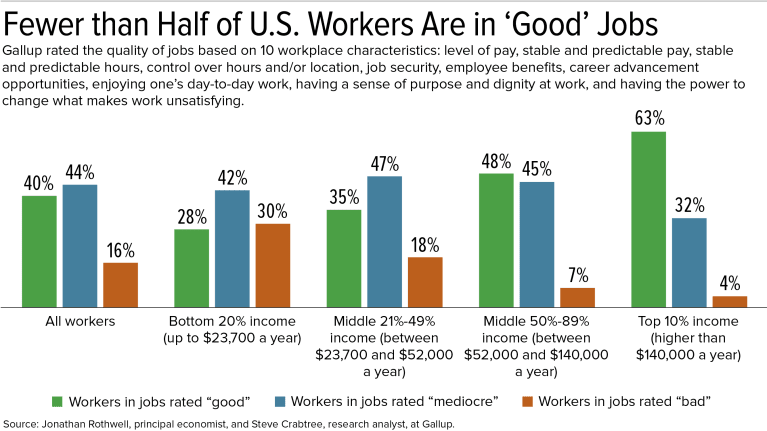 10 Dimensions of Job Quality
Gallup's findings were based on responses from a random sample of 6,644 working adults in the U.S. The research company asked them to rate the importance of 10 dimensions of job quality:
Level of pay.
Stable and predictable pay.
Stable and predictable hours.
Control over hours and/or job location.
Job security.
Employee benefits.
Career advancement opportunities.
Enjoying the day-to-day work.
Having a sense of purpose and dignity at work.
Having the power to change things that are unsatisfying at work.
The survey was conducted by mail from Feb. 8 through April 1. Gallup determined job quality based on the weighted average of satisfaction on all 10 dimensions on a scale of 1 to 5. Scores below 3 on the combined index indicated a bad job; scores between 3 and 4 signified a mediocre job; and a score of 4 or 5 indicated a good job.
Missouri had the highest percentage (51 percent) of people in good jobs, followed by Texas (48 percent) and Massachusetts (47 percent).
California and Tennessee had the highest percentages of people in bad jobs (23 percent each), followed by Washington (22 percent).
Fun Perks Aren't Enough to Engage Workers
A 2019 report on workplace complacency by Achievers, which provides employee engagement platforms, found that 65 percent of employees polled plan to stay in their jobs despite being disengaged, which could be another reason why so few workers feel they are in good jobs, said Natalie Baumgartner, Ph.D., chief workforce scientist at Achievers.
Younger workers in particular expect that they should be fully engaged with their company, work and colleagues, and that expectation is "somewhat new to many employers," she said. While many companies try to boost engagement with such perks as free meals and fun experiences, that's not enough, she said.
"There's more of this 'perk inflation' going on than ever before," she observed. "However … employee engagement needs to be a way of doing business. Employers [must] create a strong culture, rooted in a core set of values and a shared mission. Leaders need to listen and act on employee feedback, celebrate employees and make them feel valued [so that employees have] a sense of purpose, meaning and, ultimately, satisfaction."
In its 2019 Compensation Best Practices Report, the compensation software and data company PayScale found that employee appreciation was the most critical component of a worker's sense of engagement and satisfaction with an employer. Other important components included communication, pay, professional development and a worker's relationship with a manager.
Yet PayScale also found that HR professionals and company leaders tended to overestimate how good their employees felt across most of these categories. In fact, the only thing that HR pros underestimated was how employees felt about their relationships with direct managers.

"Taking these factors into consideration, there is a definite discrepancy between how employers view their employees' satisfaction and how employees feel about their employers," said Sudarshan Sampath, director of research at PayScale.
Written by Dana Wilkie, Online Manager/Editor, Employee Relations
Published by www.shrm.org, November 7, 2019